Annoyed with the fact that Msn stays in your task bar on Win 7? Well that was the case for me, when I used to login/run Windows Live Messenger, it used to appear in the full start menu bar instead of going down in the task-bar near the clock. The huge tab of Windows 7 was disturbing me when I was running lots of applications.
So after a little hanky panky I figured out how to make Windows Live Messenger appear in the task-bar (near clock) instead of appear in the full start task-bar.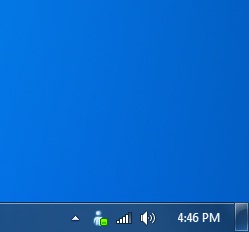 How to send Windows Live Messenger in Task Bar With Clock in Windows 7:
Close Windows Live Messenger.
Start.
Right Click on Windows Live Messenger.
.
Click on Properties
Click on the Compatibility Tab.
Enable the compatibility check-box and set it to Windows XP Service Pack 3.